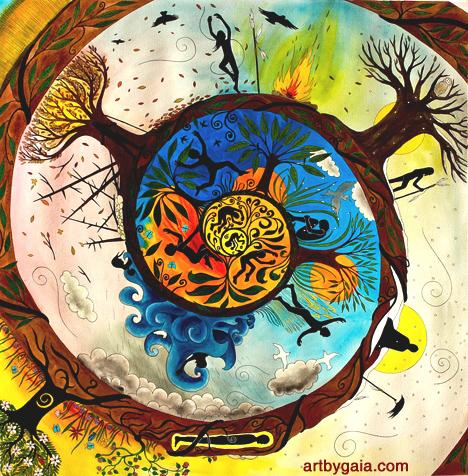 www.artbygaia.com
This is an introspective time of year, and particularly so for me now as I enter a huge new chapter of my life. This paradox of new life growing as the world enters hibernation has got me thinking about cycles and nature's annual miracle of death and rebirth. It is so beautiful, and every year is a chance for some part of us to be reborn, refreshed and renewed. I imagine that however many years one may live on this earth, springtime will never lose its wonder and autumn will never cease to touch the heart with its beauty and colour. This is a poem I wrote during the euphoric arrival of spring, and I think of it now as we enter the sweet melancholy of winter.
The Horse Chestnut wakes early,
Holding limp, olive fingers to the bashful April sun
Silently begging for summer to come.
When at last the sun is braver
From empty aqua golden rays of June will pour
Fattened fingers spread and beg for more.
Up, up they reach for every ray
And with the golden bounty hands are forging day by day
A blossom-coated candle in the outstretched palm
An offering held up to whence it came.
The Horse Chestnut stands aglow with pride
About to drop a shiny treasure in disguise
The candles flickered and blew away
A fan fair for the final play before the year is done
Spiky bombs rain down upon September
Withered fingers fall in golden-browns
And somewhere underneath the ground
The Horse Chestnut sleeps
It feels perfect that as we are drawing our energy inwards, building our winter nests and bringing in wood for the fire, our little one will arrive and all of our focus will be on cosying up together and getting to know one another.